[bsa_pro_ad_space id=4]
Die 155. Felzmann-Auktion umfasst knapp 2.000 Positionen von Münzen und Medaillen von der Antike bis zur Gegenwart.
Datum/Zeit
29.02.2016 - 01.03.2016
23:00
Veranstaltungsort
Testplatz Stuttgart
Kategorien
155. Felzmann-Auktion
Frühjahrsauktion bei Felzmann
Die 155. Felzmann-Auktion umfasst ein hochwertiges numismatisches Angebot an Münzen, Medaillen, Orden und Sammlungen. Das Angebot von knapp 2.000 Positionen reicht von antiken Kostbarkeiten, über Liebhaberstücke aus der frühen Neuzeit, bis zu modernen Raritäten und ausgefallenen Sammelgebieten.
Nero, 54-68, Aureus 55 Lugdunum. RIC 150, 6. Ausruf: 25.000 Euro.
Die Antike, die wie gewohnt den Startschuss der Auktion bildet, wartet gleich mit einer ganz besonderen Münze auf: Ein Aureus aus der Ära des Nero (54-68) steht zur Versteigerung. Die überaus seltene Emission zeigt vorderseitig die drapierte Büste des Kaisers zusammen mit der Büste seiner Mutter Agrippina. Rückseitig ist ein von vier Elefanten gezogener Wagen mit Divus Augustus und Divus Claudius abgebildet. Der Startpreis für dieses außergewöhnliche Stück liegt bei 25.000 Euro.
Jülich-Kleve-Berg. Wolfgang Wilhelm von Pfalz-Neuburg, 1624-1653. ½ "Neujahrs"-Talerklippe 1641. Düsseldorf. Ausruf: 10.000 Euro.
Aus dem Bereich Deutschland bis 1799 besticht eine "Neujahrs"-Talerklippe des Herrschers Wolfgang Wilhelm von Pfalz-Neuburg. Dieses Geschenk des bergischen Fürsten an seine Untertanen aus dem Jahr 1641 ist, anders als die häufiger angebotenen Ausgaben von 1642, von großer Seltenheit. Der Ausruf für dieses Prachtstück liegt bei 10.000 Euro.
Natürlich sind auch zahlreiche Kostbarkeiten aus Europa und Übersee vertreten. Vor allem Prägungen aus der Türkei, Ungarn und der Volksrepublik China werden Sammlerherzen höherschlagen lassen.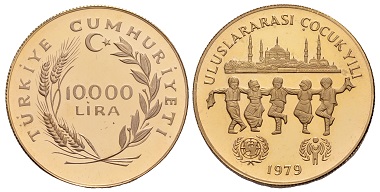 Türkei. Republik 10.000 Lira 1979 Istanbul. Jahr des Kindes. KM unlisted. Schön 933 a. Ausruf: 10.000 Euro.
Angeboten wird ein türkisches 10.000 Lira Stück in PP zum Jahr des Kindes 1979 als Dickabschlag. Die Auflage von nur 29 Stück belegt dessen höchste Seltenheit. Ab 10.000 Euro können Gebote für diese besondere Münze der modernen Türkei-Numismatik abgegeben werden. Nicht minder stark dürfte das Interesse an einem 1.000 Forint Stück aus Ungarn in PP sein. Ab 9.000 Euro kann ein wunderschönes Stück auf den 85. Geburtstag von Zoltán Kodály ersteigert werden.
Volksrepublik 100 Yuan (5) 1992 Coins of Invention and Discovery, komplette Serie von 5x 100 Yuan gekapselt in der originalen Lack-Holzschatulle. KM 415-419. Ausruf: 15.000 Euro.
Einmal mehr zeigt sich auch die Volksrepublik China von ihrer numismatisch schönsten Seite: Zur Versteigerung steht ein 35 Yuan Stück zum Jahr des Kindes 1979 als Dickabschlag sowie eine komplette Serie Coins of Invention and Discovery mit fünf 100 Yuan Stücken von 1992. Die erst genannte Münze startet bei 12.000 Euro, die 100 Yuan Serie bei 15.000 Euro.
Als Besonderheit im Bereich der Medaillen präsentiert das Auktionshaus eine Bronzemedaille von 1850 aus dem Osmanischen Reich. Das von Hart/Brüssel gefertigte Stück auf die Maßnahmen des Kaisers Abd al-Majid zur Erneuerung des osmanischen Reiches kann ab 3.000 Euro beboten werden.
Dies ist nur ein kleiner Einblick in das Angebot der 155. Felzmann-Auktion. Der Online-Katalog mit allen Losen und Fotos ist auf der Felzmann-Website abrufbar. Die Briefmarkenauktion findet im Anschluss an die Münzauktion vom 2. bis 4. März in Düsseldorf statt. Die kostenlosen Auktionskataloge können telefonisch bestellt werden: 0211 – 550 440.