[bsa_pro_ad_space id=4]
18. Dezember 2009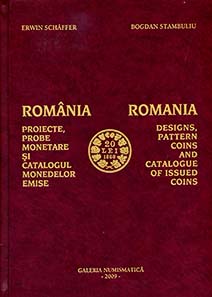 Erwin Schäffer & Bogdan Stambuliu, Romania – Designs, Pattern coins and catalogue of issued coins. Vol. I 1860 – 1989. Eigenverlag, 2009. 460 S. mit zahlreichen farbigen Abb. Hardcover. Fadenbindung. 22 x 30,5 cm. Zu beziehen über "La Galerie Numismatique", 32, Rue du Petit-Chene, CH-1003 Lausanne- CH.
Die beiden Autoren legen hier auf 460 Seiten einen zweisprachigen Katalog von 196 Nummern mit Proben und tatsächlichen Münzausgaben Rumäniens vor. Jedes einzelne Stück ist abgebildet und mit einer exakten numismatischen Beschreibung sowie einer Preisvorstellung versehen. In einem zweiten Teil folgen Aufsätze verschiedener Autoren zur rumänischen Numismatik in rumänischer und englischer Sprache, so daß das Buch Material erschließt, das bisher aus sprachlichen Gründen nur wenigen zugänglich war.
Ein wichtiges Buch also für die rumänische Numismatik, das durch die Übersetzung ins Englische auch hierzulande Freunde finden wird.